TRIP TO THE DOMINICAN REPUBLIC TO DELIVER BIKES FOR CHRISTMAS
December 11, 2015Zoe Prieto
Comments Off

on TRIP TO THE DOMINICAN REPUBLIC TO DELIVER BIKES FOR CHRISTMAS
This year thanks to our sponsors we were able to send 143 brand new bikes to the Dominican Republic for 3 rural areas, were they're is no running water no transportation kids have to walk for over 30 minutes to get to school. I would like to thank my Husband Rolando Prieto & my brother Eddy Gonzalez for always supporting me and helping me in everything i do. These 2 man loaded bikes, drove a box truck in the Dominican Republic to the neighborhoods were we needed to deliver the bikes which wasn't easy, unloaded and ensemble bikes for the less fortunate children of these areas. What an amazing feeling seeing the face of these children when they received their bikes and they're cry out screaming and asking if there was one for them. Each of the children received a bikes we have being planing this since June of this year and each of the bikes had the children names on it.
Arrived at the Dominican Republic to the Church were all the bikes were stored for us. We automatically started sorting them by sections to were they will be deliver to. My husband and even my granddaughter was departing by their name she found a stroller she use to play with for her dolls that she wanted to donated to someone that need it. I thank God for the life of Pastor Freddy Cabrera for always helping us and being the main contact for us with the government and the custom control for all the container we ship.
FRIDAY NIGHT WE GOT ON OUR WAY TO EL COQUITO, It took us one hour and 45 minutes to drive there and half of the way was a dirt road with holes all over the place we arrive at 7:30 pm to see the children waiting their bikes. These children walk to school for 30 minutes everyday and in this neighborhood their is no light or running water. The were so excited to know that they were getting a bike we distributed 42 BIKES WERE HERE.
Evan & Brianna Giving these moms a stroller as soon as they saw them they asked if they could give these two mom this gift. These two children learned a valuable message this christmas to be thankful for what they have because they're is a lot of other children that don't have anything.
NEXT STOP SATURDAY MORNING LOAD THE TRUCK AND MAKE OUR WAY TO PALAVE HERE WE GAVE OUT 77 bikes to the children. Here you can see at our arrival the children were outside waiting for us to get there. Eddy assembling a bike, my granddaughter sitting on the floor helping one of the youth assemble a bike, the team from AATI getting their hands on experience, my husband and my nephew Evan trying to get another one together, even Pastor Freddy making sure the bikes are getting assemble right.
This young man was waiting patiently for my brother to finish the bikes and he ran and got on it like saying this one is mine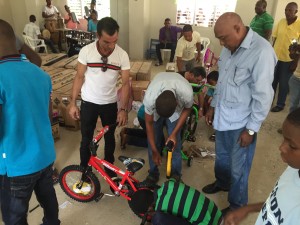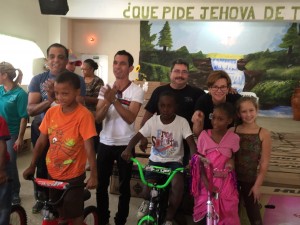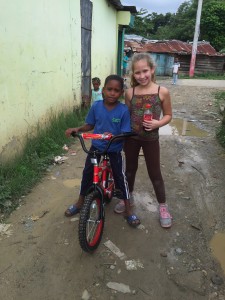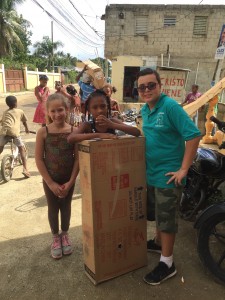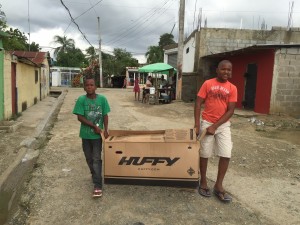 here you can see their faces and their happiness when they received their bikes and how they are taking them home.
ON SUNDAY WE DELIVERY THE BIKES FOR THE CHILDREN IN THE CAPITAL. When we got their the youth of the church had assemble them on Saturday. Sunday morning when the kids got their they were able to ready to ride them out on the street to the park around the corner for a christmas luncheon for them. I want to thank AATI here in Hialeah for they're love and support to travel with us to the DR helping us assemble, deliver and make sure the children wish came true. In some of these picture you would see my granddaughter Brianna and my Nephew  Evan caring a baby they fell in love with.