THANKSGIVING FOOD DRIVE THE 6TH AND LAST DAY OF DELIVERY 11/23/2015
November 23, 2015Zoe Prieto
Comments Off

on THANKSGIVING FOOD DRIVE THE 6TH AND LAST DAY OF DELIVERY 11/23/2015
#1 SCHOOL OF THE DAY WAS EARLINGTON HEIGHTS ELEMENTARY THESE CHILDREN WERE SHOCKED THAT THEY HAD BEEN CHOSEN TO RECEIVE A THANKSGIVING MEAL THEIR FACES SAY IT ALL. THE ADMINISTRATION AND STAFF IS SO ECITED AND THANKFUL THEY DON'T KNOW WHAT TO DO FOR OUR ORGANIZATION
2ND SCHOOL OF THE DAY WAS NATHAN B. YOUNG ELEMENTARY CHILDREN WERE HAPPY AND EXCITED FOR THE GIFT OF THE THANKSGIVING MEAL THIS LITTLE BOY EVEN WANTED TO CARRY HIS OWN TURKEY HOME
3RD SCHOOL OF THE DAY MYRTLE GROVE K-8 CENTER WITH PRINCIPLE APRYLE KYRNES FOR SOME OF THESE CHILDREN'S
IT WILL BE THEIR FIRST THANKSGIVING THEY ARRIVED FROM CUBA NOT TOO LONG AGO.
NEXT STOP WAS THE HOUSE OF THE BADGER FAMILY FROM AMELIA ELEMENTARY SHOOL THESE CHILDREN
ARE LIVING WITH THEIR AUNT AS HER FOSTER PARENT. WE DECIDED TO TAKE IT TO THEIR HOME SINCE THE CHILDREN IN IN SPECIAL ED CLASSES AND GO HOME ON BUS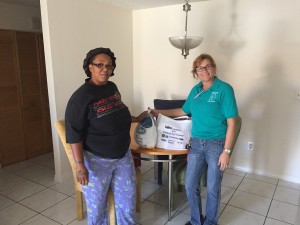 4TH SCHOOL OF THE DAYV PALM SPRINGS NORTH ELEMENTARY ANOTHER SCHOOL THAT HAS RECEIVED NEW KIDS FROM CUBA AND THEY WILL CELEBRATE THANKSGIVING FOR THE FIRST TIME.
OUR LAST STOP WAS A JOHN G. DUPUIS ELEMENTARY WERE THIS LADY IS A VOLUNTEER AND NEEDS A LITTLE HELP WITH THEIR THANKSGIVING MEAL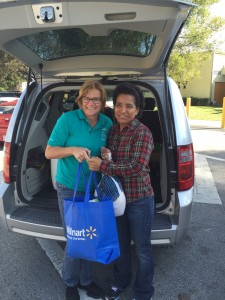 AND WE ARE DONE WITH THANKSGIVING.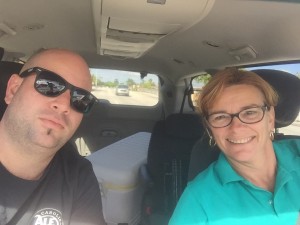 THANKING GOD FOR ALL HIS BLESSINGS AND FOR ALL THE SUPPORT HE HAS BLESSED US WITH THIS YEAR I WANT TO SAY THANKS TO ALL OUR SPONSORS,  IWANT TO THANK  MY SON ROLY WHO EVERYDAY WENT TO THE SCHOOLS WITH ME AND HELPED ME CARRY ALL THE MEALS AND ALL THE VOLUNTEERS THAT YEAR AFTER YEAR THEY DROP WHAT THEYRE DOING AND COME HELP US MAKE THIS GIFT OF LOVE A REALITY FOR SO MANY FAMILIES. THIS YEAR WE WERE BLESSED TO HELP 100 FAMILIES WITH THEIR MEALS THANK YOU LORD